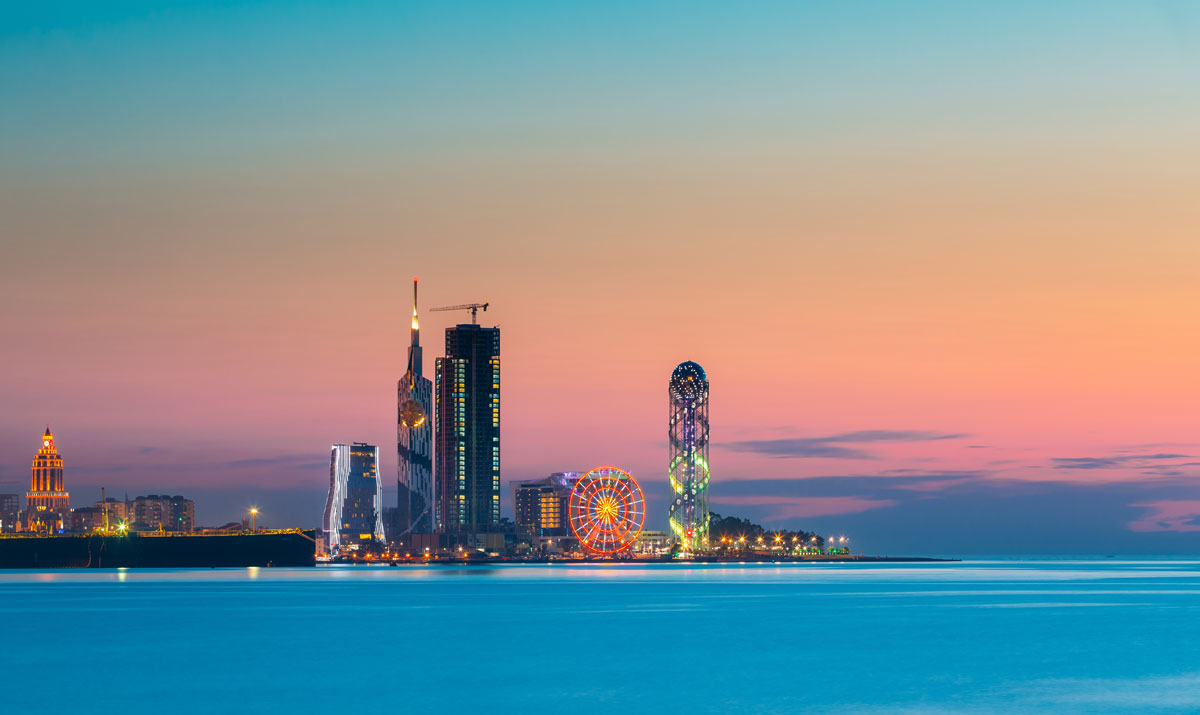 Batumi - Prometheus cave - Martvili Canyon

Day 1: Arrival day - Batumi sightseeing tour

Meet & greet at Batumi international airport by representative of "Happy Travel Georgia" & transfer to the hotel, After some rest take a guided city tour to discover the city of Batumi. First to visit botanical garden, next to pass with cable car over Batumi, piazza square, enjoy Batumis street, old Batumi, Batumi seaport, After, the elegant, white Greek-style colonnades were initially built as an entrance to the beach, but as the shore-line retreated, they now remain as decorative piece of architecture. Take a walk around the Europe Square, and see the famed monument of Medea with the Golden Fleece. Continue towards The Waderpark, which is situated and designed on the seafront boulevard of Batumi. Batumi Boulevard, a historic promenade stretched along the coast of the Black Sea. It is the perfect place to enjoy a walk, bike ride or just relax and see the popular attractions such as the statue of Ali and Nino, the Georgian Alphabet Tower. Next, we enjoy to dolphin show at Batumi dolphinarium. Overnight: At hotel in Batumi.
Day 2: Batumi surrounding tour

Hotel Breakfast. After breakfast 9:30 our representative will pick you up and starts tour. First to visit Gonio fortress, from the 1st century. The name is connected to the character in the Greek Myth of Argonauts (Apsaros is a brother of Medea). A theatre and hippodrome functioned here in I-III cc. AD. One of the twelve apostles of Christ St. Mathias is buried in Apsaros. Next, we go to Sarpi (Georgian Turkey Boarder) Waterfall of St. Andrew the first-called. Next, we move to Mountainous Adjara. We see Chorokhi and Adjaristskhali Valleys, Arch-stone Bridge of XIII c. in Makhuntseti and Makhuntseti Waterfall. (where we can enjoy rafting 3 km). Next stop is "Adjarian Wine House" which was built on the ruins of historical winery .Where you can make yourself Georgian traditional bread and enjoy lunch with organic food. Later we go for shopping "Metro Sky". Overnight at Hotel in Batumi.
Day 3: Prometheus cave- Martvili Canyon tour

Hotel Breakfast. After breakfast at 9:00 our representative will pick you up for trip. First going to Martvili canyon: Martvili Canyon is a Natural Monument is located 45 kilometers from Kutaisi in the village Inchkhuri, near Martvili. Taking walking or boat tours at Martvili Canyon you can explore the Dadianis' Path, mountain river gorge, limestone natural bridges, overview platforms, waterfalls, XIX century water mill, fossil shells of nautiluses and sea urchins. Next going to Prometheus Cave. Prometheus cave we can walk in 1.5 km long tunnel to enjoy breathtaking views of stalactites, stalagmites, petrified waterfalls, underground rivers, and lakes along the cave. Underground light system filled with LED lights of all rainbow colors marvelously highlights natural beauty of Prometheus cave. Later drive back to Batumi. Overnight at hotel in Batumi.
Day 4: End of the tour. Transfer to Airport

Hotel Breakfast. After breakfast, our representative will pick you up and going to shopping center. "Metro Sky" where you can do last shopping and after shopping transfer to airport regarding to flight departure time.
Package Includes:
• Round airport transfer
• 3 night's hotel accommodation DBL room
• Daily Hotel Breakfast
• All tours with fuel
• English/Arabic/Russian speaking guide
• Private tour with comfortable vehicle with AC and WIFI
Package exclude:
Lunch and dinner
Entrance fees