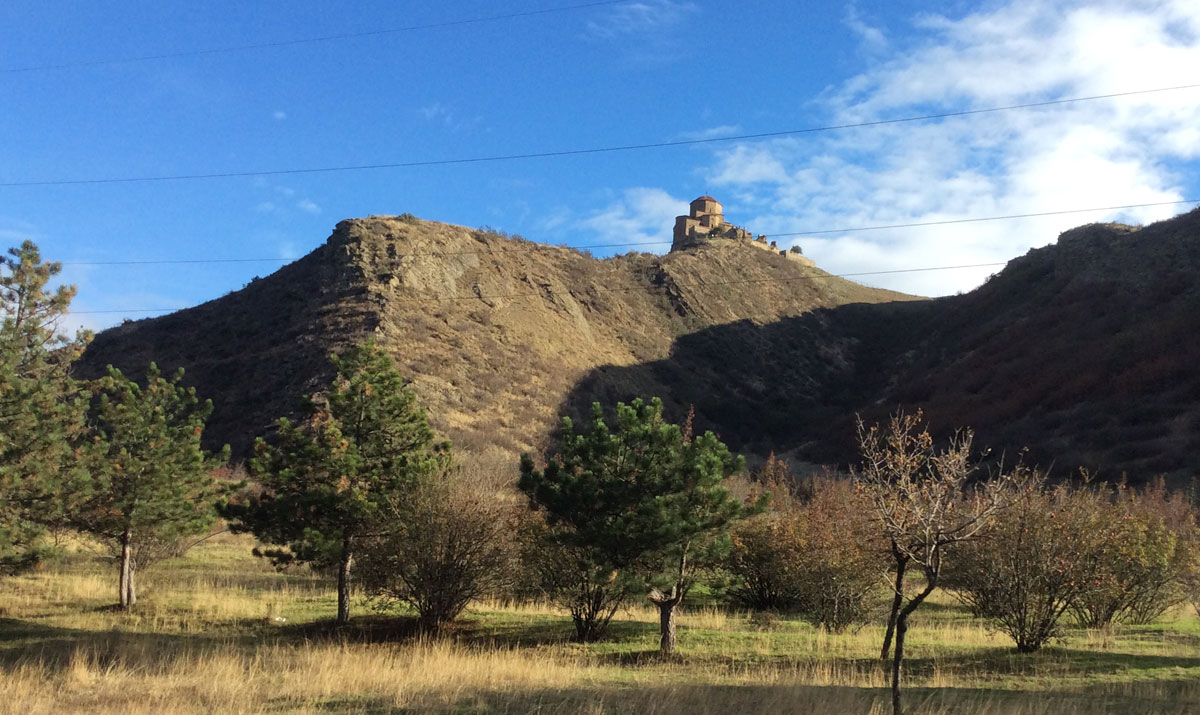 Tbilisi - Jvari-Mtskheta-Shio Mgvime-Uplistsikhe - Ananuri - Gudauri - Kazbegi - Bodbe - Signagi
Day 1: Arrival day - Tbilisi sightseeing tour
Meet & greet at Tbilisi international airport by our representative & transfer to the hotel. After hotel check out by 10:00 our representative will pick you up for Tbilisi sightseeing tour. we start by "Metekhi Church" and monument to "Vakhtang Gorgasali", the legendary founder of Tbilisi. Next, all reviews of narikala fortress by cable car to see "mother georgia" - "St. George Castle" and enjoy breathtaking panoramic view of the city, Next, we walk through "Rike park" to "Bridge of Peace" right place for Photography. After the see "clock tower" of famous Theatre,we will Stroll through the Sharden Str. area full of narrow streets with cozy cafés, wine tasting bars, souvenir shopsand breathe in the living past. Next, continue to walk down to the district of Sulphur bath houses passing by the only mosque in Tbilisi and see the "Lock bridge" and famous waterfall of Narikala. Its time for lunch, After, lunch we go to see Sameba Holy Trinity Cathedral, one of the largest orthodox cathedrals in the world. Next, we ride up by cliff train to Funicular.Funicular Complex restaurant building has a couple of great places to eat or drink. There is a big amusement park for kids and adults, TV tower and spectacular views over the Tbilisi. Next, to Funicular we go to the Freedom Square and Rustaveli Avenuewhere is located Shopping Mall "Galeria Tbilisi". After shopping we take you to the hotel. Overnight: at hotel in Tbilisi.
Day 2: Tbilisi with landmarks and historic sites.
After having breakfast at hotel by 9:30 our representative will pick you up and starts Tbilisi City tour. First, we startby monument "Chronicles Georgia History" over the Tbilisi sea. The top part of tall columns feature kings, queens and heroes and the bottom part depict stories from the life of Christ. Next, we go to the "Turtle lake". The cable car between "Vake park" and "Turtle lake" offers stunning views over the city.one of the most popular recreational zones of Tbilisi, After the enjoy "Turtle Lake" to the way back we stop to "Tbilisi open air Ethnographic Museum" which is an open-air museum in Tbilisi, displaying the examples of folk architecture and craftwork from various regions of the country. Next, we continue to Agmashenebeli Avenue is located in an historic district of Tbilisi close to the left embankment of the Mtkvari River. Where we stop for the late lunch. Much of the area was built by the German contractor Fredrich Vezel in the 1880s. It is one of the most popular shopping streets in Tbilisi. Next, Explore Tbilisi at night with tourist cruise boat on Mtkvari river. The boat trip covers some of the most popular tourist attractions, including Mtkvari river old town surroundings, Metekhi crag with traditional architecture houses on top, House of Justice and more! Next, we go to shopping center"Tbilisi Mall", the largest mall in Georgia. Overnight: at hotel in Tbilisi
Day 3: Jvari-Mtskheta-Shio Mgvime-Uplistsikhe
After breakfast at hotel by 9:30 our representative will pick you up and starts journey to First stop to toward Mtskheta is Jvari monastery, it's on top on the hill, with beautiful panorama views to Mtskheta town with conjunction of two small mountain rivers which are the different color still keep their own colors even after merge. Next stop to Mtskheta town (Old capital of Georgia), where is located cathedral of Svetitskhoveli, (11th Century). The narrow old-style streets with shops of souvenirs. The way toward to "Shio Mgvime" we will stop at "Samtavro monastery", from this sacred place preached St.Nino The Christ's law to the people of Georgia. The current complex includes a small church, which is considered to be the church of St. Nino; and the temple, which was built in XI century. After continue to "Shio Mgvime Monastery" which is one of the religious and cultural center. According to historical records, the monastery was founded by Assyrian father's pupil Shio, in VI century. Next continue to "Uplistsikhe" Cave-town fortress was an important religious, political and cultural center in the Hellenistic and the late Antique periods. you will walk among the ancient streets, rock-carved theatre, royal halls, pagan temples and the churches. Later drive back to Tbilisi. Overnight: At hotel in Tbilisi.
Day 4: Ananuri-Gudauri-Kazbegi
After breakfast by 9:30 our representative will pick you up and starts tour. at Ananuri complex, a former residence of Argveti Dukes. Complex featuring churches and towers dating back to the XVI-XVII cc is beautifully overlooking Jinvali reservoir. Next our stop in Gudauriover "Russian-Georgian" People's Friendship" monument which serves as panorama view of impressive Caucasus mountains.Next, we continue to Kazbegi, arriving in Kazbegi we will change our vehicle to a 4X4 to reach Gergeti Holy Trinity Church located on altitude of 2170 m and enjoy breathtaking views of Mt Kazbegi, which is the right place for photography. Kazbegi is the gateway to the world of mountains and surrounded by amazing mountain landscapes. Later Drive back to Tbilisi. Overnight: At hotel in Tbilisi.
Day 5: Bodbe-Signagi
Hotel Breakfast. After breakfast, our representative will pick you up for tour. First stop at wine Factory KTW (ultra-modern wine and brandy factory) where we will see the newest technology of winemaking. Next, continue to "Bodbe Monastery", which is the most beautiful and important orthodox complex, there is a panoramic view to Alazani valley from the Complex. After "Bodbe" we take a way toward to Signagi (city-City of Love). delightful civilized tourist center with cobbled streets and cozy houses with bright red tile roofs. The town's architecture is made in the southern Italian style. One of the main attractions of the town is Signagi Fortress located on a high hill. This is one of the largest and most famous forts in Georgia. It has about 28 watchtowers, we will climb on one of them, you can admire the magnificent view that opens to the Alazani Valley. After the lunch in Signagi, we will visit central museum of the city and we will walk down to vivid narrow streets. Then we drive back to Tbilisi. Overnight: At hotel in Tbilisi.
Day 6: End of the tour
Hotel Breakfast. After breakfast, our representative will pick you up and going to the biggest shopping center "East Point" where you can do last shopping, next, transfer to airport regarding to flight departure time.
3* hotel DBL room
4* hotel DBL room
5* hotel DBL room
Package Includes:
• Round airport transfer
• 5 night's hotel accommodation
• Daily Hotel Breakfast
• All tours with fuel
• English/Arabic7Russian speaking driver service
• Private tour by comfortable vehicle with AC - WIFI
Package excludes:
Lunch and dinner
Entrance fees
4WD VEHICLE