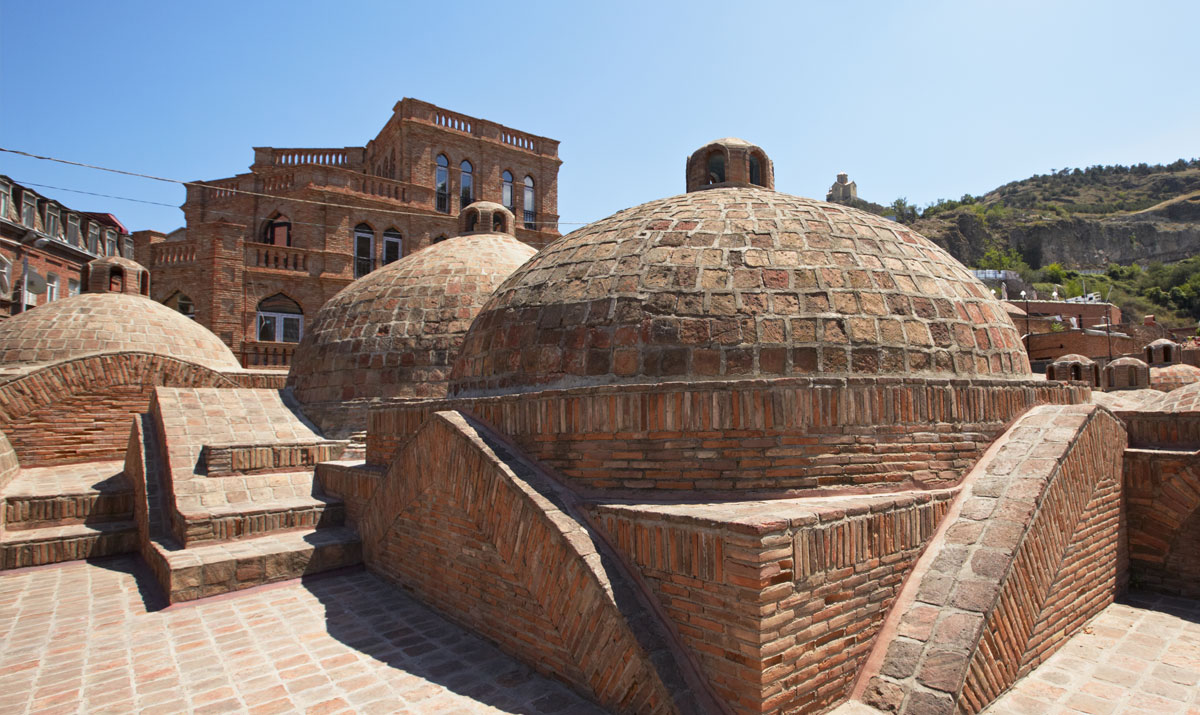 Tbilisi - Ananuri - Gudauri - Kazbegi - Mtskheta - Uplistsikhe - Borjomi - Rabati

Day 1: Arrival day - Tbilisi Sightseeing tour
Meet & greet at Tbilisi international airport by representative of "Happy Travel Georgia" & transfer to the hotel. After some rest we start Tbilisi sightseeing tour. First, we startby "Metekhi Church" and monument to "Vakhtang Gorgasali", the legendary founder of Tbilisi. Next, all reviews of narikala fortress by cable car to see "mother georgia" - "St. George Castle" and enjoy breathtaking panoramic view of the city, Next, we walk through "Rike park" to "Bridge of Peace" right place for Photography. After the see "clock tower" of famous Theatre,we will Stroll through the Sharden Str. area full of narrow streets with cozy cafés, wine tasting bars, souvenir shopsand breathe in the living past. Next, continue to walk down to the district of Sulphur bathhouses passing by the only mosque in Tbilisi and see the "Lock Bridge" and famous waterfall of Narikala. Its time for lunch, after, lunch we go to see Sameba Holy Trinity Cathedral, one of the largest orthodox cathedrals in the world. Next, we ride up by cliff train to Funicular. Funicular Complex restaurant building has a couple of great places to eat or drink. There is a big amusement park for kids and adults, TV tower and spectacular views over the Tbilisi. Next, to Funicular we go to the Freedom Square and Rustaveli Avenue where is located Shopping Mall "Galeria Tbilisi". After shopping we take you to the hotel. Overnight: at hotel in Tbilisi.
Day 2: Ananuri - Gudauri - Kazbegi

Hotel Breakfast. After breakfast, our representative will pick you up and start the journey. Nextstop will be at Ananuri complex, a former residence of Argveti Dukes. Complex featuring churches and towers dating back to the XVI-XVII cc is beautifully overlooking Jinvali reservoir. Continue our drive over the Cross pass and make a short stop at Soviet time "People's Friendship"monument with mountain view point overlooking a deep gorge of Caucasus mountain range. Next, we go Kazbegi, we will change our vehicle to a four-wheel drive car to reach Gergeti Holy Trinity Church located on altitude of 2170 mand enjoy breathtaking views of Mt Kazbegi. Later Drive back to Tbilisi. Overnight: At hotel in Tbilisi.
Day 3: Jvari – Mtskheta - Uplistsikhe

After breakfast at hotel by 9:30 our representative will pick you up and starts journey. First to see Jvari monastery it's on top on the hill, with beautiful panorama viewswithconjunction of two small mountain rivers famous for the fact that being different in color they still keep their own colors even after merge. Next, wegotoMtskhetatown (OldcapitalofGeorgia), wherewewillseethe cathedral of Svetitskhoveli, narrowold-stylestreetswithshopsofsouvenirs. Next going to "Uplistsikhe" Cave-town fortress was an important religious, political and cultural center in the Hellenistic and the late Antique periods. you will walk among the ancient streets, rock-carved theatre, royal halls, pagan temples and the churches. Later drive back to Tbilisi. Overnight at hotel in Tbilisi.
Day 4: Borjomi - Green monastery - Rabati castle

Hotel Breakfast. After breakfast, our representative will pick you up for tour. First stop atNext continue to Borjomi. Town resort Borjomi is famous for its healing mineral water, which is used as a drinking water for different diseases and as a bath too. Here we will visit. Enjoy Borjomi park with "Butterfly museum" - taste mineral water from the springs and ride on a cable car. Marvelous beauty of resort that's makes unforgettable memories. Next, toward to Rabati castle we will see "Green monastery". Complex that includes a single-nave church of roughly crushed stone and a bell tower of XV-XVI century. Next going to "Rabati Castle": Newly reconstructed Rabati fortress, built in the 13th century, doorpost Rabat developed under the influence of different cultures over subsequent centuries and this is reflected in its architecture. Within the 7 hectares castle complex there is a Church, a Mosque, a Minaret and a Synagogue. It had a renovation and restoration, after which these places are must-see. Beautiful palace and fortress make a huge impression.Later drive back to Tbilisi.Overnight: At hotel in Tbilisi.
Day 5: End of the tour.
Hotel Breakfast. After breakfast, our representative will pick you for transfer to Airport. Before departing we stop to shopping Mall "East Point" where you can do last shopping. Next to shopping transfer to airport regarding to flight departure time.
Package Includes:
Round airport transfer
4 night's hotel accommodation DBL room
Daily Hotel Breakfast
All tours with fuel
English/Arabic/Russian speaking guide
Private tour with comfortable vehicle with AC and WIFI
Package excludes:
Lunch and dinner
Entrance fees
4WD VEHICLE